quilt
. That's because I haven't finished it yet! It took me so long to piece and put together the quilt top that I am absolutely terrified to ruin the quilting and binding. So to practice, I made a matching table runner for my dining room table.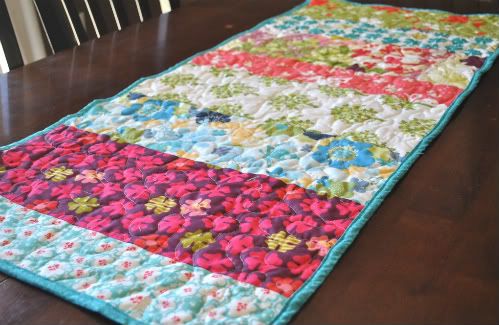 I practiced my stippling, made my own binding, and applied it. You should've seen me while I was quilting. I was pursing my lips so hard, they were white. And I think I was even shaking at one point. I was so nervous! Especially when I got to the darker fabrics, where the thread would be most visible. I tip my hat off to all the quilt makers out there who are so confident with their strokes and techniques. They make it look so easy!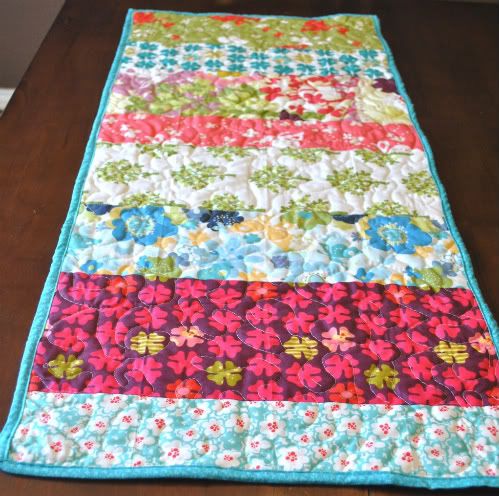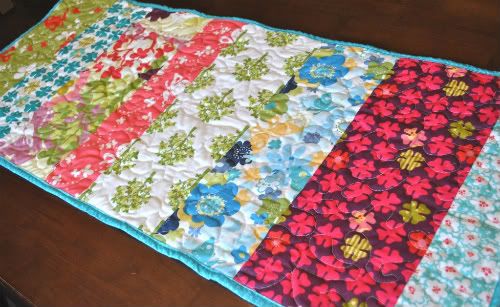 The back side of the table runner is a little plainer. I used a lime polka dot fabric with a single panel of the "Just Wing It" fabric. The binding is sooo imperfect. I ended up making it thinner than I had planned so I chose to sew the entire thing on by machine instead of sewing the back by hand.


So I need your opinion. Which side should I use for my table? The front or the back?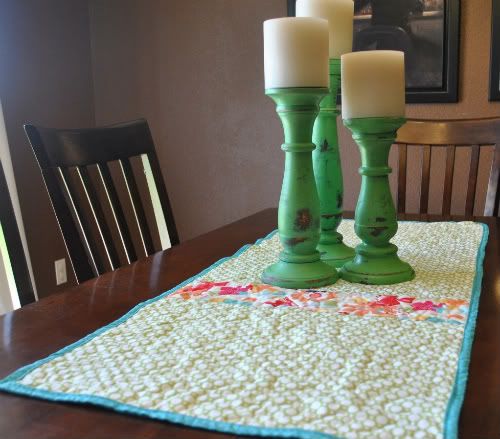 Candlesticks are from this post
Quilting and binding still terrify me, but I'm hoping that now that I got this done, I'll be motivated to finish this quilt.
On a totally different topic, people have been experiencing problems leaving comments on/with Blogger. From what I've heard, this is only occuring with PCs. Those using Apple products are not being affected. With me, I am able to leave comments using my iPad but with my PC and my Dell laptop, I am continually being redirected to the sign in page. There are two solutions to this problem.
1) Instead of selecting Google account when prompted to choose an ID with which to leave a comment, choose the Name/URL option and type your information manually.
2) When signing in, unclick the "stay signed in" box. This should allow you to leave comments with no problem.
I hope this helps! I know it's been a little irritating for me these last couple of days when I've been trying to leave comments on some really great posts and am unable to. Hopefully this issue with Blogger will be resolved soon! Thanks for stopping by today!
Linking up
here
.