**

GIVEAWAY CLOSED

**

It's my birthday and I'll give if I want to!!
But we'll get to that in a minute. First, I wanted to share some EXCITING news with you!! Last week, while I was in El Paso, I was contacted by Jenny from
Whole Port
. Whole Port is a company based in Hong Kong that sells beautiful fabrics, lace trims, dollhouse miniatures, knitting supplies, buttons, jewelry, moulds, you name it! They are super cheap too because it's all made right there and they're wholesale prices! And guess who they asked to represent them!! Yours truly! Introducing, my fabulous sponsor...
Right now, Whole Port is hosting a crafting competition called
Creativity Expo
. Basically, WholePort wants to see who can make the most interesting crafts out of its crafting supplies, so it will send you one of
nine crafting supplies
(including everything from polymer clay beads to lace trim to origami paper) completely for free. Then you can make a craft incorporating the supplies and post a photo of it on the WholePort
facebook
wall for a chance to win one of ten $50 cash coupons to www.wholeport.com- the Creativity Expo winners will be determined by the photos with the most "likes" on facebook.
The deadline to request your supplies is July 9th and the contest will run through to August 1st.
Whole Port
is also offering all Pink Stitches readers 10% off their entire store! Just enter CRAFTFUN10 at checkout. This offer will be valid until July 31st.
Now, I mentioned a birthday giveaway right?? I made this little zipper pouch just for YOU! It's made with linen blend Echino Japanese Import Fabric and lined in a beautiful plum purple.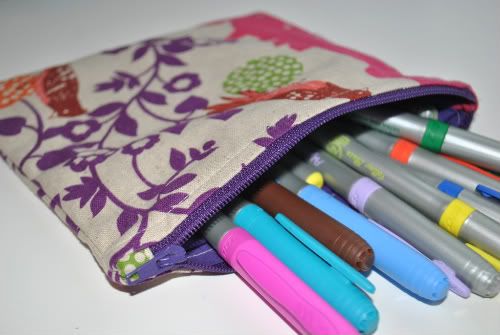 After I made it, I discovered it's the perfect size for Sharpies, gel pens, highlighters, etc. Are you a writing tool junkie like me?? I must have ten baskets full of stuff to write with. I love PERMANENT MARKERS! I'm just weird that way.
So here's how to enter to win this zippered pouch:
1) Leave a comment in this post. Tell me Happy Birthday, what you love about Pink Stitches or just let me know how plain awesome I am!
2) For an extra entry... You must correctly guess how old I am today! Want some hints?? Hmm..
- I'm between 20-30
- I've been married for six years
- My son is two and a half years old
- My high school graduation song was "Good Riddance (Time of Your Life)"
- I went to see Varsity Blues in theatres my senior year
That's as far as I'll go! Thank you guys for stopping by today to celebrate this awesome day with me! You.are.the.best!
**EDITED TO SAY** Oops, I forgot to mention that the giveaway will remain open until midnight on Friday and I will announce the winner on Saturday!