It was obvious that it was made by it's last owner. I wasn't sure what to make of it. Did I like it? Did I hate it? Where would I put it? For the time being, I stashed it away somewhere. Then yesterday, my husband put out the pool for AJ (we did end up getting him a pool after all, but not
the one he wanted
haha) and I took out the butterfly for a nice coat of white paint. Well two coats. I didn't have to wait too long in between coats, it was 102 degrees out! I wanted to jump in the pool with AJ-- but I controlled myself and got to work. This is what I ended up with.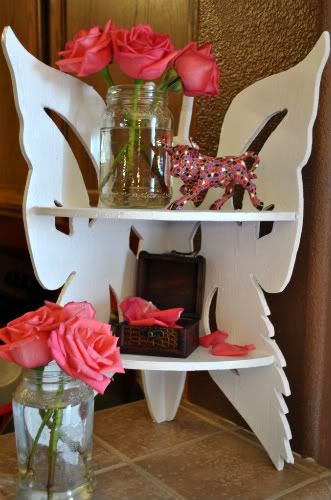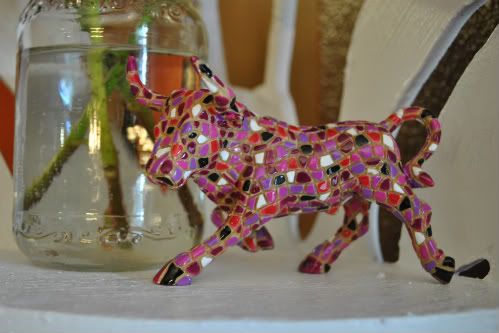 This little bull is a gift from Barcelona. My little brother got it for me when he went to Spain with my sister last year. He knows how much I love pink!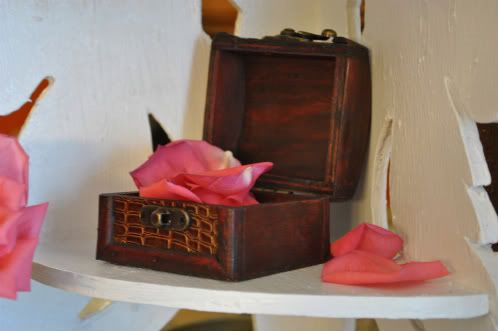 These are still the roses that I bought at Walmart
a week and a half ago
! Still cashing in on my five bucks! I saved some of the withering petals and filled up that cute little trunk I got at Hobby Lobby for $1. I'll write a post soon about how you can care for and lengthen the life of your flowers.
In other exciting news, did everyone see the official "Breaking Dawn" trailer yesterday!?? Eeeep!! I can't wait until November 18th! Are there any other Twilight fanatics out there that I can squeal with?? Team Edward! Ok, I'll stop now before I scare some of you off (unless I'm too late :-/). Have a great week everyone!!
Linking up at these
awesome places
.