Lizette's favorite color is pink, which makes us soul mates. I made an adorable log cabin block using all kinds of pink fabrics around a cute little forrest animal scene. Then I turned it into a ten inch zipper bag (my favorite size of bags- perfect to use for anything) and filled it with goodies like notecards, pink paper clips, Easter stickers, mini Sharpies, hand sanitizer, and a gorgeous spring necklace from JessicaNDesigns.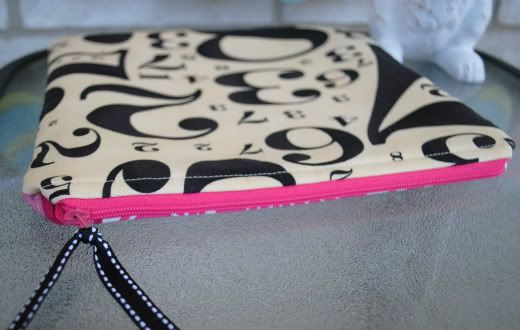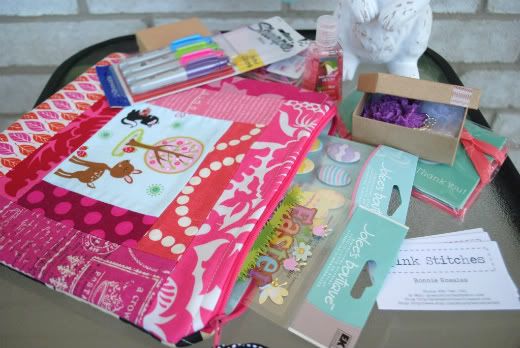 For Mabel, I pulled out one of my favorite prints of these sweet little owls and made one of Jeni's drawstring bags. I used some pink chevron twill ribbon from
Amy's shop
for the pull strings. I knew Mabel loved LaLaLoopsy so I was thrilled to find a little Easter edition that was the perfect size for the bag. I also added lots of candy and some Lip Smackers.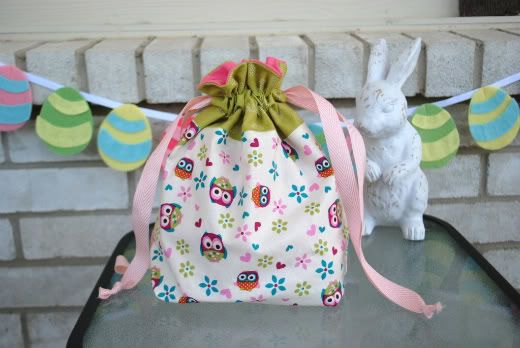 I really hope Lizette and Mabel enjoyed receiving their goodie bags. And a huge thank you to everyone else who participated in the Easter Swap!! I hope you all had fun including your little munchkins this time around. More swaps to come! Have a wonderful Easter!!
ETA: Read more about our swap on Lizette's blog.
I love seeing the pictures of Mabel opening her package. I'm kicking myself now for not taking any of AJ! Lol Oh well, now I know for next time!