I'm participating in Miss Mommy's Tuesday Ten today!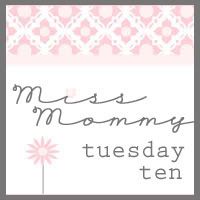 I am _____ right now:
I am
- announcing the winner of the As Hue Wish giveaway at the end of this post!
I wonder
- if I'll ever be able to let go of AJ when the times comes :-/
I see
- a lot of new fabric collections that I'm dying to get my hands on!
I want
- a new sewing machine (among other things hehe)
I pretend
- I'm going to have all my Christmas sewing done on time but I probably won't
I worry
- about my husband at his job... constantly
I cry
- with books... yep
I hope
- that one day I'll have a successful Etsy shop and reach 100 sales!
I dream
- of opening my own fabric shop
I feel
- so excited for the upcoming holidays!
And now for the winner of the As Hue Wish Giveaway...
Random.org chose commentor #12, which is Miranda of The Craft Bot!
Congratulations Miranda! You won $25 shop credit to
As Hue Wish
!
I'll be sending you an email later for your snail mail address and get your info over to Pamela. And a HUGE thank you again Pamela for the generous giveaway! Don't forget to check out her
blog
! Have a great Tuesday!