Katie
earlier this week. Katie and I have been bloggy friends for awhile now and we totally have the same taste. Her specialty is upcycling furniture and she has inspired me to paint a few small pieces around my house. I am blown away by her creativity. This package was no exception. She totally surprised me by sending me some things she sewed! Let me just let you in on a little secret here... Katie doesn't have a sewing machine. She sews everything by hand!! Can you believe that?! Amazing! Here is what she sent me.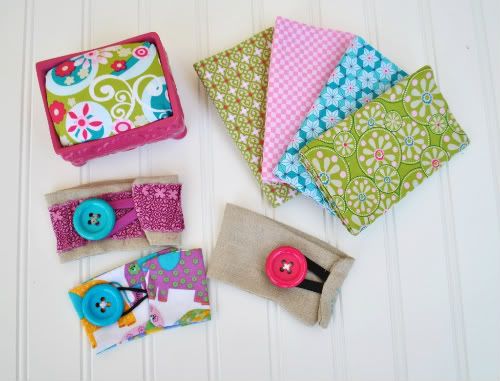 Right when I opened the box, I was pleased with her color choices! She sent me some fabric FQ's (um, yes please!!), some adorable coffee huggers (I love me some coffee!) and the prettiest pincushion I have ever seen in my life!!
Aren't you so jealous of me!? Lol This little beauty is going to look fantastic on my sewing table. And would you look at these coffee cozies?! How thoughtful is she? She handstitched "Pink Stitches" onto some beautiful linen! I especially love the little needle and thread. The pleats and elephants on the other two are super cute too!
Thank you Katie!! Oh and I forgot to mention that she included some Rainbow Twizzlers (not pictured). AJ devoured them before I had a chance to snap these photos. I was able to convince him to share ONE with me haha. This swap was so much fun! I have been receiving some beautiful pictures and some blog links from other participants and I will be doing a feature on them soon. I will also be hosting another swap for Halloween/Fall so keep your eye out for that one!
Have a wonderful Labor Day! Hope you're enjoying it with your families. xoxo