Pink Stitches Flickr Group
! I'd love to see your beautiful creations and feature some of my favorite projects!**
Remember these delicious
danishes
my sister and I made last month for our business?
Well, can you imagine how hard it was for me to be surrounded by delicious treats, engulfed in sweet aroma, and not being able to stuff my face?! Each danish was counted for so
Viv
and I were only able to share one! I had been craving them ever since. So my wonderful sister came over last week to show me how to make a "cheater's version" of these yummy pastries. That's right! You don't have to make them from scratch!!
You will need:
- A box of puff pastry sheets*
- A can of your favorite pie filling
- Flour
- One egg
- Parchment Paper (of foil paper if you don't have any on hand)
*You can find this box of puff pastry sheets in the freezer section of your grocery store. Not where the biscuits are, they are kept with the frozen desserts and pie crusts.
Before you begin, thaw out your pastry puff sheets and preheat your oven to 425 degrees.
Sprinkle some flour onto your counter top and roll out one pastry puff sheet, just enough to smooth out the creases.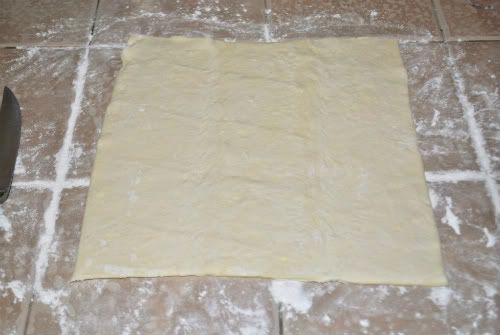 Cut the sheet evenly into four squares.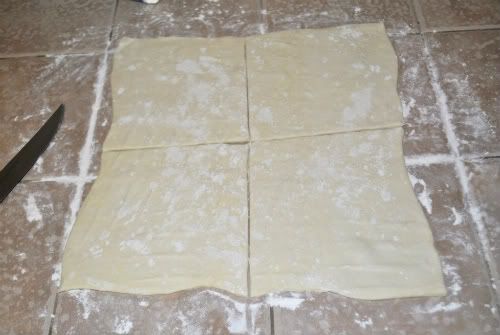 Open your can of pie filling and divide generously onto the four squares diagonally.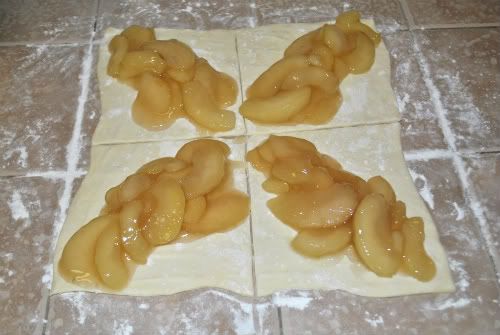 Feel free to sprinkle some cinnamon on top of the apples.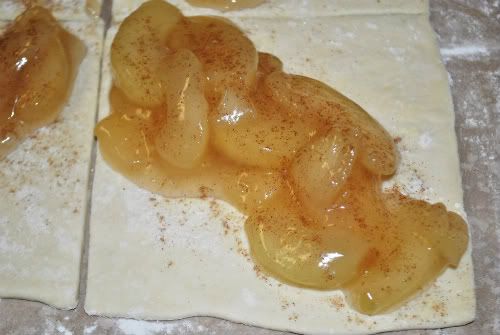 Fold one flap over your filling. Dampen your fingers in some warm water and apply to the flap before folding over the other side. This will hold both flaps in place while it bakes.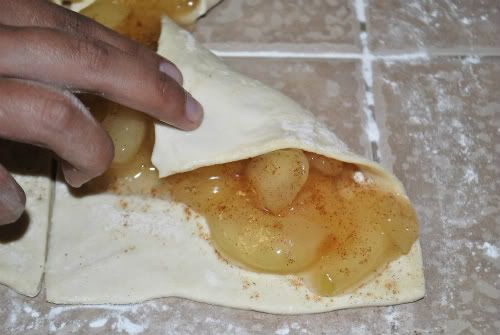 Repeat for all danishes. I only used one sheet to make four. You can use both sheets and try different fillings if you'd like.
Now make your egg wash by mixing one egg with one tablespoon of water in a small cup. Apply to the top of each danish with a brush or napkin. This will give your danishes a nice golden color when they bake.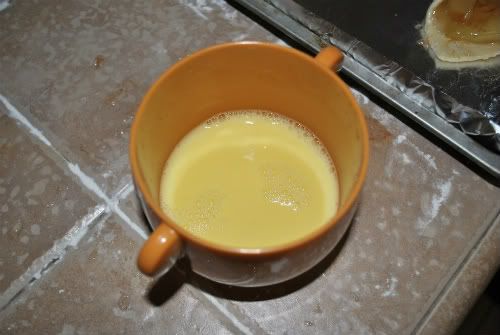 Place parchment paper onto your baking sheet. If you're using foil like me, spray some cooking oil before you place the danishes on it.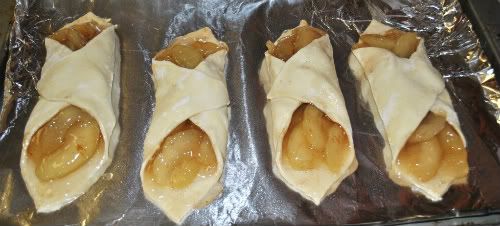 Bake in the oven for 18-20 minutes. And you're all set to go!
Yeah they're not as pretty as the ones made from scratch but it works for me!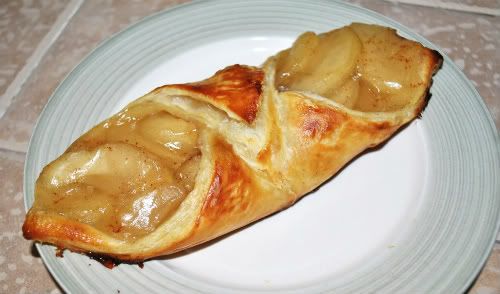 My family will be enjoying them over and over this fall. There are sooo many fillings I want to try. I think next time, I'll make my own strawberry filling. Yum!
**You can check out more recipes at my sister's blog, vivre.**