When we were pregnant, Adrian and I had the idea of having a Lakers themed baby shower. Somehow, that idea trickled down to his nursery too. As AJ grew, we turned his crib into a toddler bed but pretty much kept everything else as is. He had a play room in our loft and sleeps with us in our room so he never spent any time in his own room. We decided it was time to turn it into a more appealing space for him so it wouldn't be just a wasted room in our home.
Our initial thought was to have a CARS themed room. This is his absolute favorite movie. He goes through his Toy Story and Rango phases but always comes back to CARS. As we started planning though, we decided it would be pretty expensive to buy CARS themed decor and chances are, he could very well have a new "all time favorite" two or three years down the road. It was more practical to have a neutral theme and just add little details of the things he loves.
So, here's the before: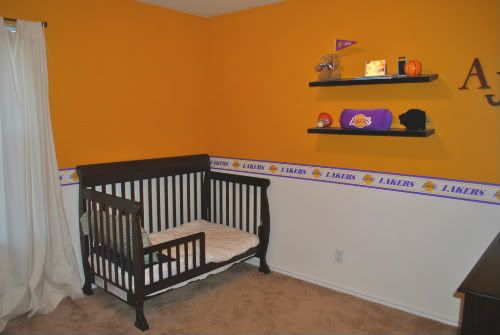 And here is the now:


I say the "now" because it's not quite the "after" yet. I still want to add a few things and I have some projects I'm working on for it.
For the walls, we chose a Martha Stewart color called "Faded Ink" and had the paint technician at Home Depot make a custom match for us using Behr paint with primer. We were able to cover up the loud yellow with only ONE coat of paint. Thanks Behr!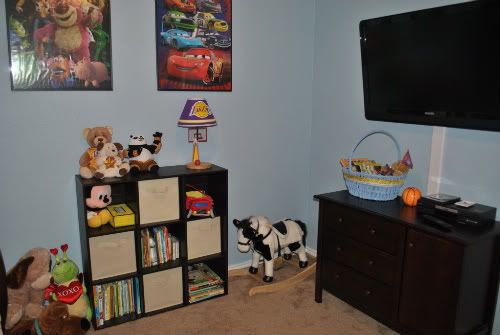 It was quite a challenge trying to squeeze all his toys into this tiny room but somehow we pulled through. Most of the big pieces are out, with the exception of a few. His little grill, R/C trucks, and giant tub of toys are in his closet. These curtains are temporary (new ones are on the list of projects I'm working on).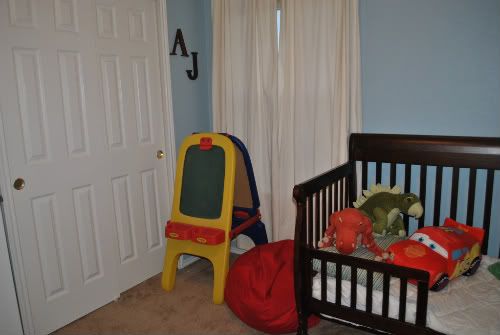 My favorite part are these cubbies that we got at Target. It's perfect for his ever growing collection of books and the baskets hold his smaller toys. That little firetruck basket holds his crayon rolls and his coloring books and puzzles are in the basket above his dresser.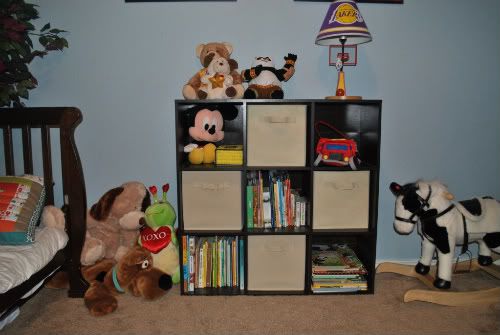 Unfortunately, one of the bigger pieces that didn't fit in his room was his wooden train table that he LOVES. We aren't getting rid of it though, it's still sitting in the loft for now until we decide what to do with it. Now we are in the process of moving my craft room into the loft. My current craft room will then be turned back into our guest room. Theeeen we can get to repainting the entire downstairs! It's a lot of work, but at least I know we have a great little helper!
All this work will have to wait until next week though. We are heading to the beach tomorrow! Hope you all have a splendid weekend and don't forget, tomorrow is the last day to enter the
Zipit Giveaway
!
Linking up
here
.