AJ's room
. I had also expressed my new fondness for the color grey and wanted to incorporate that in as well. We started working on it about three weeks ago and kept adding a little here and there between the weeks that my husband was away at work and my sewing marathons.
Here is what our dining room and living room looked like before: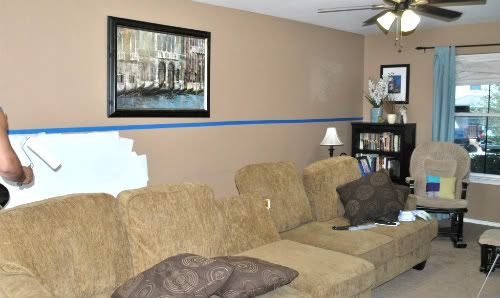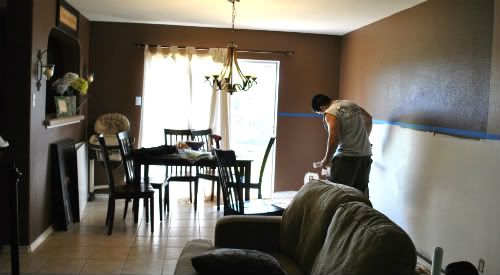 The walls were dark and neutral. Everything was beige or brown. Not a speck of color or brightness. My living room has only one window and my dining room has a large patio sliding door along one side. There really isn't much lighting in this area. I wanted to lighten up the space and give it a shabby chic look. Here is what we ended up with.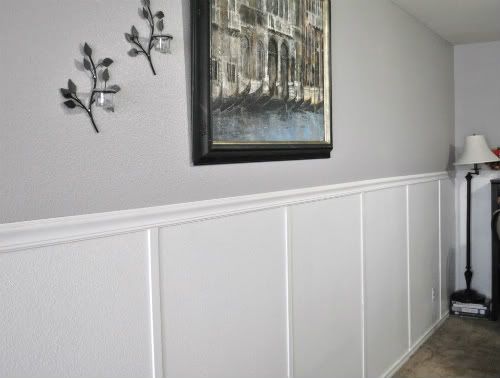 I took out the middle wedge in my sectional and pushed the entire thing against the wall to create an open space. I took the wedge upstairs to my craft room.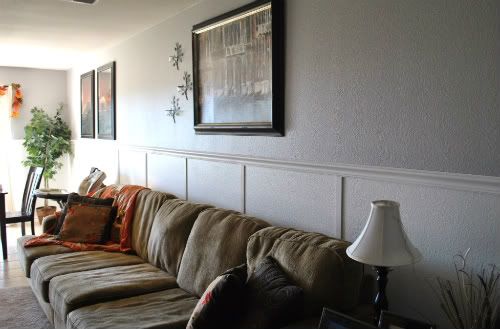 For the board and batten, we painted four feet of the bottom of the wall with white Behr paint (eggshell finish, primer included). The top portion of the wall was a Behr grey paint we had mixed with primer to match Martha Stewart's Driftwood Grey color.
Next, we bought 16 feet pieces of thin, flat moulding and cut them up to 3'10" pieces. We painted them the same color white as the bottom of the walls and applied them to the walls about 3 feet apart using Moulding Glue. Then we chose an inexpensive chair rail moulding and cut the pieces to fit the walls right over the thin mouldings. We also added mouldings around the window and patio doors.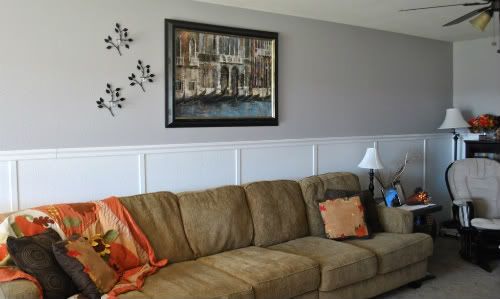 Our plan is to add some crown moulding in the next few weeks. We're in no rush. We redid these two room and painted the rest of the downstairs all for under $200.
Once we're done with everything, I'll share some more pictures of the rest of the walls and rooms. For now, I am really enjoying the fresh new look of it. It feels like I'm in a completely different home!